Online Course: The Mysterious Synergistic Alliance of Radha-Krishna & Aum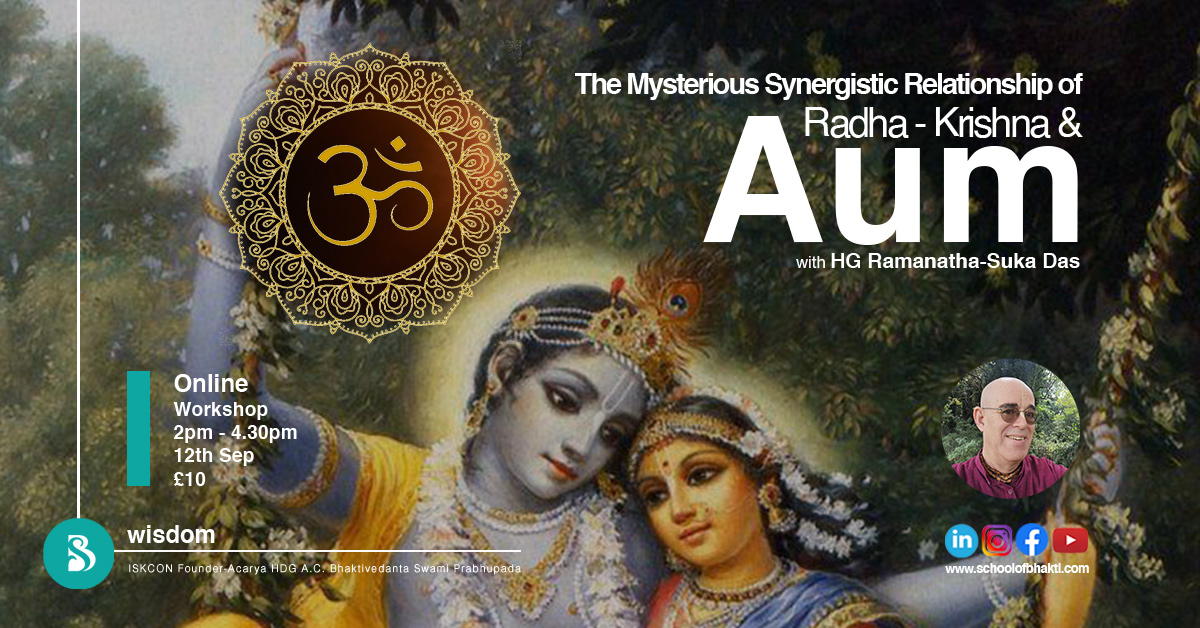 Description of course
Srila Prabhupada has taught that the Supreme Personality of Godhead Lord Krishna, and His eternal consort Srimati Radharani, along with Omkara, are actually all one and the same. Only Krishna devotees are capable of fully appreciating this esoteric secret that is rarely discussed. This introductory seminar is a prelude to a more elaborate course that will be run later this year. This session will illuminate the theology of Omkara as being much more complex and nuanced than a simplistic combination of a few letters. Aum is understood as the quintessential expression of ultimate reality, super-consciousness, and the individual soul. Vedic knowledge begins and ends with Aum. The entire Vedic knowledge tradition is intrinsically connected to the synergistic alliance of Omkara with devotion to Radha and Krishna. Audience participation will be encouraged for an inspiring interactive experience.
Description of teacher
Ramanatha-Sukha prabhu joined the Krishna consciousness movement in April 1973 in Atlanta Georgia. He received Gayatri mantra Brahmin initiation directly from Srila Prabhupada in 1975 and has presented the philosophy and teachings of Gaudiya Vaishnavism for many decades in America, Europe, and India. In 1989-90 he served as the temple president of ISKCON Philadelphia. He has resided in London for almost 3 years and is presently serving at Bhaktivedanta Manor as a mentor and counsellor. For the past 6 years he has been consulting with HH Jayapataka swami and his grace Jananivas prabhu (Mayapura head pujari) about the potential for establishing a shrine to Gopisvara Mahadeva on sacred land to Lord Siva in Sridham Mayapur. He has many personal stories and realizations regarding how devotees should or should not invoke demigods into their own personal spiritual journeys.
When
12 September 2020, 14:00 through 16:30
Location
School of Bhakti - Online
United Kingdom