Online Course: The Cost Of Resentment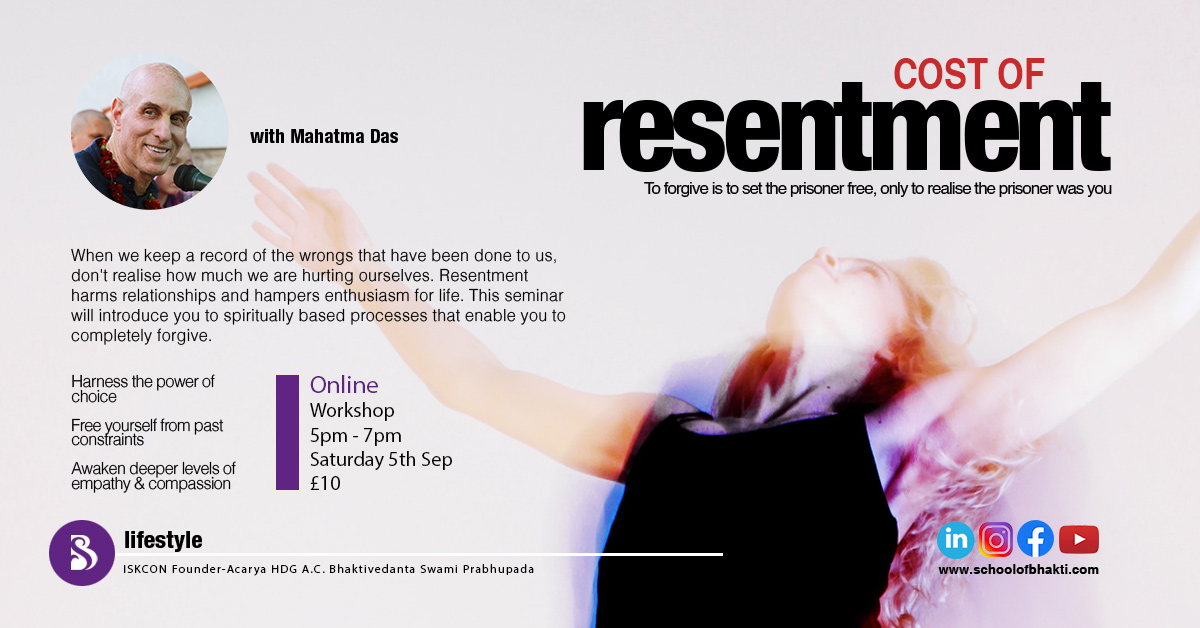 Description of course
When we keep a record of the wrongs that have been done to us, we often don't realise how much we are hurting ourselves. Resentment harms relationships, hampers enthusiasm for life, and keeps us in a victim mentality. It can even hurt our health. In short, its just not good for us. TO FORGIVE IS TO SET THE PRISONER FREE AND THEN REALISE THE PRISONER WAS YOU. This seminar will introduce you to spiritually based processes that enable you to completely forgive.
Learn to
- harness and utilize the power of choice
- free yourself from the constraints of the past, accept a brighter future
- awaken deepest levels of empathy and compassion in your heart
Description of teacher
Mahatma Prabhu was born in Los Angeles, California in 1950. In 1969, at the age of 19, he first met Srila Prabhupada through The Bhagavad Gita As It Is, and then later that year met Srila Prabhupada personally in Los Angeles. In January of 1970 he moved into the temple in Berkeley, California and shortly after received first and second initiation.
He went on to do a variety of services including book distribution, sankirtan leader, temple president, college preaching, congregational development, and various educational projects. This has culminated in the work he does today developing workshops, social media, online courses and books both for devotees as well as the general public through his company Sattva [www.thesattvaway.com]. He practically shows the many ways that Krishna consciousness offers solutions to today's challenges and writes and teaches in a way that resonates with devotees and people in general by helping them see life as a spiritual practice
Mahatma Prabhu is well known in ISKCON for his recorded and live music, most notably his recording of Brahma Samhita, but also for his workshops on such essential topics as Japa, Forgiveness, Humility, Vows and Marriage.
He is now based in Alachua, Florida he lives with his wife Jahnava and daughter Brajasundari, and travels about four months a year.
When
5 September 2020, 17:00 through 19:00
Location
School of Bhakti - Online
United Kingdom