Online Course: Improving Mental and Emotional Wellbeing Through Krishna Consciousness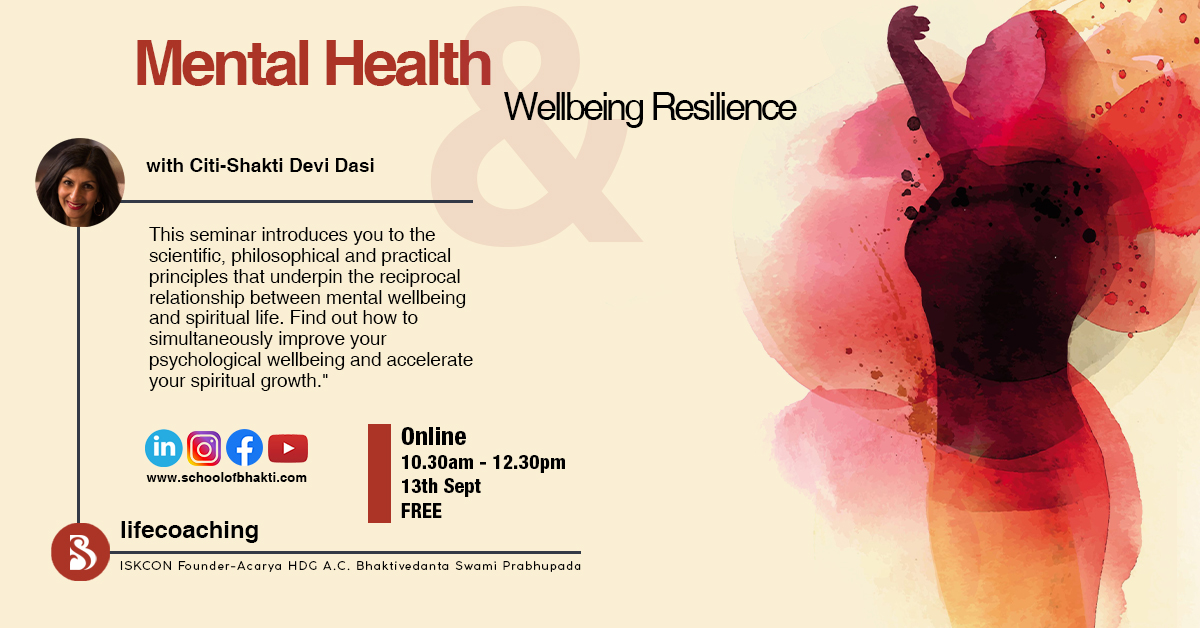 Course Description
This seminar introduces you to the scientific, philosophical and practical principles that underpin the reciprocal relationship between mental wellbeing and spiritual life. Find out how to simultaneously
improve your psychological wellbeing and accelerate your spiritual growth.
About the teacher:
Citi-Sakti Devi Dasi has been practising Bhakti Yoga for nearly 25 years & is a disciple of H.H Bhakti Tirtha Swami. Based in London, UK, she serves as a speaker, mentor & sangha leader.
She regularly broadcasts for BBC Radio on mental health, wellbeing & spirituality with over 200 million listeners. She features on TV & in a number of newspapers & magazines & has contributed to several books.
Graduating from Imperial College as a Medical Doctor & specialising as a Consultant Psychiatrist, she brings together 2 decades of experience in scientific advances in mental health with Vedic teachings & connects with a diverse audience of celebrities, politicians, healthcare professionals & corporate leaders.
When
13 September 2020, 10:30 through 12:30
Location
School of Bhakti - Online
United Kingdom
Event Fee(s)
| | |
| --- | --- |
| FREE | £ 0.00 |
| Donation | £ 10.00 |
| Donation | £ 15.00 |
| Donation | £ 20.00 |
| Donation | £ 25.00 |
| Donation | £ 30.00 |
| Donation | £ 35.00 |
| Donation | £ 40.00 |
| Donation | £ 45.00 |
| Donation | £ 50.00 |