Ramayana Taster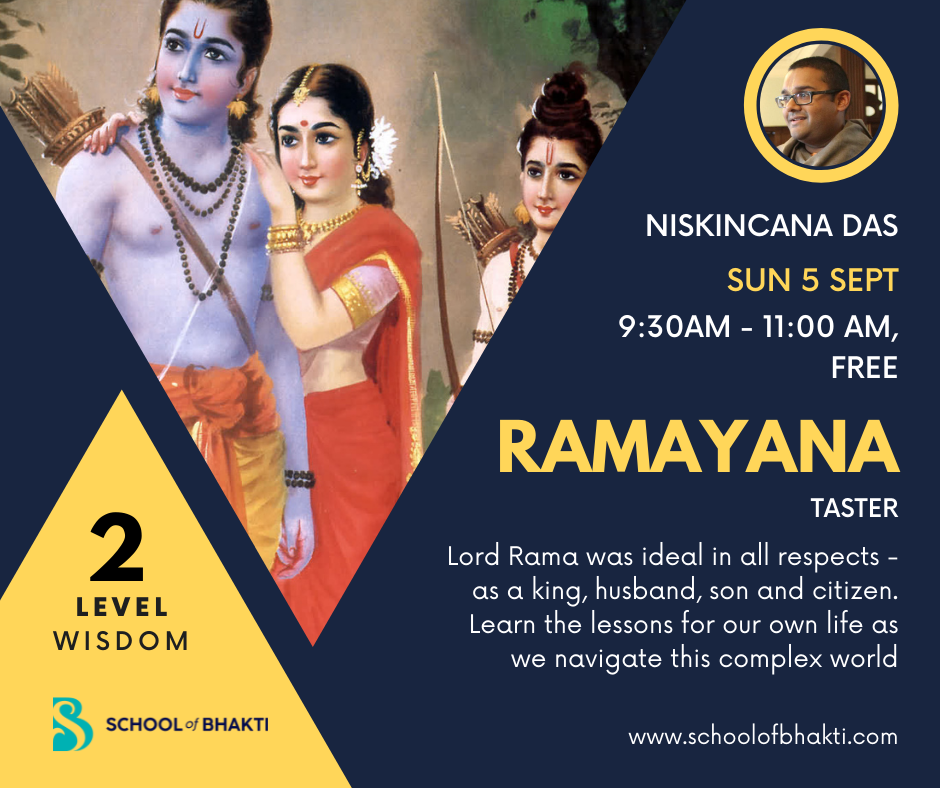 Ramayana Taster
Date: Sunday 5th September 2021
Time: 9:30AM - 11:00AM BST
Location: Online and onsite at Nitai Room, Goshala Classrooms, New Gokul Farm, Bhaktivedanta Manor, Dharam Marg, Hilfield Lane, Watford, WD25 8HE
Description of Course
The Ramayana is eternal, immortal and ever pleasing. Evidenced by the fact that even thousands of years later, the Ramayana still gets spoken about and recounted continuously in the modern age as a contemporary event.
Why?.... It's not just history!
It is a history with transcendental significance
It is multi layered in its meanings and gives us pleasure on a literal level
It gives life guiding principles on an ethical and practical level
It gives mission, purpose and goal on a transcendental level
The Ramayana is fully relevant for all the challenges we go through in life right now. Even if there are no challenges, it'll give unending pleasure.
The Ramayana literally means the journey of Lord Rama
He is the exemplar of what it means to be a perfect human
To be the perfect leader
To be an expert decision maker
And through his journey, adventures, trials and tribulations, we learn, heal and grow on an emotional, psychological, social and spiritual level.
At School of Bhakti, we heartfully ask you to join us for the Ramayana series. This will be a 6-part seminar looking at key incidents and principles from the way Lord Ram and his associates dealt with relationships and adversities and how they loved one another.
We'll also look at the practical application of these principles and of course we'll learn about one of the greatest adventures in history, full of action, intrigue and take a fresh look at the nature of reality.
Description of teacher
Coming from a Hindu Bengali family in South London, Niskincana has often grappled with notions of identity, morality, in-depth vedic knowledge and its relevance to modern social discourse.However, overriding all these areas of enquiry, was the question of our nature of existence. What is our true identity? Where are we coming from? Where are we going? These were the questions that really preoccupied Niskincana's interests.
After many years of seeking avenues to real happiness, he finally came across the teachings of Śrilā Prabhupāda , the founder of the Hare Krishna movement.Having served as a monk for the last ten years at the Bhaktivedanta Manor temple, Niskincana has seen how the Krishna conscious way of living can truly benefit people in all facets of existence from the social and the political to the emotional, psychological and, of course, the spiritual level.
Through the School of Bhakti, Niskincana's focus is to build up and bring the magic of Krishna conscious education into people's lives in a contemporary and relevant manner. He is also an avid amateur stage actor and loves entertaining people with Krishna conscious drama.
When
5 September 2021, 9:30 through 11:00
Location
School of Bhakti - Online and Onsite




Nitai Room




Goshala Classroom, New Gokul Farm


Bhaktivedanta Manor,
Dharam Marg, Hilfield Lane


Watford

,


WD25 8HE




United Kingdom
Donation
| | |
| --- | --- |
| Amount | |
| Free | £ 0.00 |
| Donate | £ 5.00 |
| Donate | £ 11.00 |
| Donate | £ 21.00 |
| Donate | £ 51.00 |
| Donate | £ 75.00 |
| Donate | £ 108.00 |
| Donate | £ 151.00 |
| Donate | £ 251.00 |
| Donate | £ 501.00 |