Gita Life Taster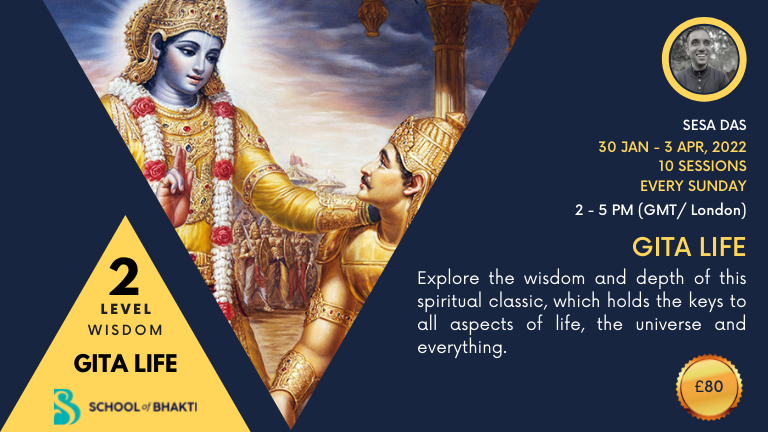 The Bhagavad Gita's Secret Message of Love
Date: Sunday 9th January 2022
Time: 10:00AM - 1:00PM GMT
Location: Online and onsite at Nitai Room, Goshala Classrooms, New Gokul Farm, Bhaktivedanta Manor, Dharam Marg, Hilfield Lane, Watford, WD25 8HE
Description of course
The Bhagavad Gita has been guiding humanity on spiritual, moral, social, and emotional dimensions for millennia. It is a companion for life and can take lifetimes to understand. In the same measure, the essential teachings of this timeless classic can also be encapsulated in shorter timeframes based on the recipient's receptivity.
Because of the current fast solution-based zeitgeist of the day, this course will take the participant on a journey into this sacred scripture all within 3 stimulating hours. This will include a historical context of the Bhagavad Gita as well as key life lessons derived from it. It also serves as a great introductory course before one embarks on the more in-depth Gita Life course.
In particular, it will provide an overview of the 5 main topics of the Bhagavad Gita:
Time - This most enigmatic feature of life will be looked at in terms of causality, functionality, beneficial utilisation
Karma - The nature of activity and deeds and the concomitant causes, effects, and consequences
Identity - An actual understanding of who we are beyond the biological and socially constructed notions of ourselves
The nature of our environment - A thorough understanding of the environment we find ourselves in. Its comprising factors and how it influences us?
The Supreme Controller - An exploration of the personality behind it all, Krishna. And how to develop a connection to Krishna in a tangible way based on the Bhakti tradition
Description of teacher
Sesa was born into a Hare Krishna family and the Bhaktivedanta Manor temple has effectively been his second home since birth. A deep thinker with a strong scientific mind, Sesa has always been interested in the structure of the cosmos, how our minds operate and the nature of consciousness. He went onto study Mathematics at City University and was intrigued by the different mathematical laws and paradigms that help to explain the structure of our Universe.
This spurred him to go back to his Krishna conscious roots. He scrutinised and dissected the 'Bhagavad Gita as it is' to the best of his ability. Never had he come across a book that went so severely into uncovering the profound truths of who we actually are, why we are here and what is the purpose of this universe. He knew then that he was going to mould his
life to fully realise the answer to life's perennial question: What is the purpose and perfection of life?
With this in mind, he joined the Bhaktivedanta Manor temple and immediately got involved in giving philosophical talks at universities and helping people to enrich their lives with spiritual wisdom. Alongside this, he is also involved in conducting scientific research in the field of metaphysics and spiritual psychology.
When
9 January 2022, 10:00 through 13:00
Location
School of Bhakti - Online and Onsite




Nitai Room




Goshala Classroom, New Gokul Farm


Bhaktivedanta Manor,
Dharam Marg, Hilfield Lane


Watford

,


WD25 8HE




United Kingdom
Donation
Amount
Free
£ 0.00
Donate
£ 5.00
Donate
£ 11.00
Donate
£ 21.00
Donate
£ 51.00
Donate
£ 75.00
Donate
£ 108.00
Donate
£ 151.00
Donate
£ 251.00
Donate
£ 501.00
Please confirm whether you will attend the course in person at the Manor or online?
Online
In person