Bhakti Sastri 2022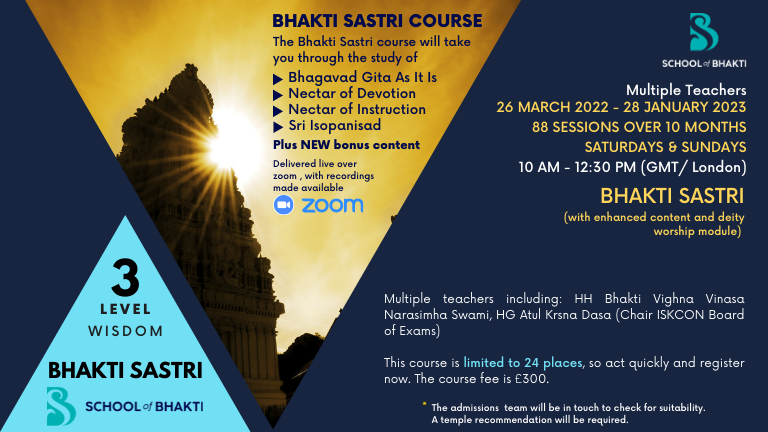 Bhakti Sastri 2022
Date: Starting 26th March 2022 - ???? 2023 
Location: Online, Zoom
Registration criteria: A letter of recommendation from your mentor, guru or suitable representative from your local ISKCON centre which includes information on your spiritual practice including the number of rounds you chant.  For more information or to discuss further, please contact Krsna Kesava Das (07590 592000) or VP Govinda Das (07780 722454
Books covered: Bhagawad Gita (As it is), Sri Isopanishad, Nectar of Instruction & Nectar of Devotion.
Note: Course will be in English and places are limited to the first 24 eligible applicants.
Course Information:
Literally meaning Devotional wisdom, the Bhakti Sastri course is one of the flagship courses at the School of Bhakti. Requiring dedication and commitment. It is one of the most in-depth courses on the Gaudiya Vaishnava Philosophy and is taught with a very experiential approach in mind. The course is clearly aimed at students actively practising and desiring to really live the Bhakti tradition. Its purpose is to deepen and enhance your understanding of Krishna and key Krishna conscious scriptures all from a devotional point of view. In line with living the Bhakti tradition, the course also looks at how to practically apply the Bhakti teachings in a dynamic way in everyday life. 
The founder of the Hare Krishna movement, Srila Prabhupada wanted devotees and enthusiasts of the Bhakti tradition to systematically study the Gaudiya Vaishnava scriptures so they achieve a clear understanding and application of the science of devotional service. Thus, the inspiration for this visionary course came about. 
The sessions are interactive, enlivening and the coursework provides an opportunity to reflect on the application of the teachings to one's own life and see the world through the eyes of scripture. Completing the Bhakti Sastri course is recommended for those aspiring for initiation into the Bhakti tradition in the liturgical sense and is mandatory for second initiation.  
 The Bhakti Sastri course will provide: 
 • Meaningful information on chosen topics conveying it in an appropriate way, so the relevance of this powerful knowledge is made apparent for today. 
 • Enrichment to the quality of people's lives particularly in regard to self-healing, self-discovery and an immersive understanding of Krishna Consciousness 
 • Empowerment to students to share their spiritual understandings with others and ignite a deep sense of purpose and meaning beyond the day-to-day realities of life. 
When
26 March 2022, 10:00 through 29 January 2023, 12:30
Location
School of Bhakti - Online
United Kingdom